Thanks to the four special guys from Italy!  We had a lot of Fun !
Superhorrorfuck: "Death Becomes Us" to be released on September 13th
Biografie
2005. October 31rst . A group of dement rockers called Morphina was supposed to play at a silly Halloween party in a dirty pub. The four guys never reached their destination. Instead of them, four fresh dead corpses dressed with rubbish reached the pub. Their exibition was the most disgusting and shoking thing that the few customs had ever seen…nobody will ever forget the sex blood and rock'n roll show of the band whose name is SUPERHORRORFUCK!
December 2009. A Police Sergent who was investigating on the case of the disappeared boys gets really near to the truth and…disappears himself too! At the same time a new zombie takes his place in the inquired band…the mistery goes on!
http://www.superhorrorfuck.net/
Teaser:
https://www.youtube.com/watch?feature=player_embedded&v=BDMNKeU4Ks4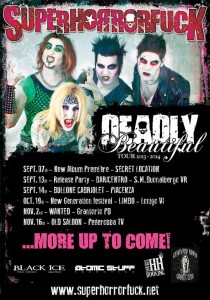 The result of an hard workin day 😀  It will be a bloody great video!!!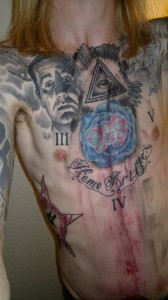 special thanks to Twiggy …she's a special guest in the video, too 🙂

 Seid gespannt!!!
und schaut auch mal hier vorbei:
http://www.blackpearlstore.de/